More Than a Fair
In a year of unprecedented crisis, the Oregon State Fairgrounds rose to the occasion and served the community in a multitude of unexpected ways.
2020 brought the priceless community value
of the Oregon State Fairgrounds into full view.
When the Covid-19 pandemic first started to grow in March 2020, the Oregon State Fair and Exposition Center became an emergency overflow hospital to treat non-Covid-19 patients, in a preemptive move to make room in Oregon hospitals for a potential flood of active Covid-19 patients.
Fairgrounds staff collaborated with Oregon National Guard Soldiers and the Oregon Health Authority to create the Oregon Medical Station, a pop-up hospital offering 250 hospital beds.
Thanks to heroic efforts by Oregonians to adhere to public safety measures like masking and social distancing, the overflow hospital was available, but never needed.
Above: Oregon Army National Guard Soldiers assisted the Oregon Health Authority (OHA) in setting up the Oregon Medical Station (OMS) at the Oregon State Fairgrounds, March 19, 2020. The OMS is a temporary mobile facility dedicated for emergency use in situations like the COVID-19 pandemic, and will provide an alternate site for 250 patients currently in nursing home care. Once operational, the OMS will be staffed by members of the State Emergency Registry of Volunteers in Oregon (SERV-OR) and the Oregon Disaster Medical Team (ODMT). (U.S. Army National Guard photo by Sgt. 1st Class Zachary Holden, Oregon Military Department Public Affairs Office)
After Labor Day Weekend, the Oregon State Fair and Exposition Center faced the unexpected challenge of overwhelming wildfires that spread through more than one million acres across the state of Oregon. Officials warned the unprecedented situation could cause the greatest loss of human lives and property due to wildfire in our state's history.
With the help of community partners like the American Red Cross, United Way, Causa Oregon, and the Oregon Department of Agriculture, staff and local volunteers created dining areas, a complimentary grocery store, showers, livestock stalls, sleeping quarters, computer labs, and government assistance centers to help hundreds of evacuees with immediate needs like food and shelter, as well as long-term needs like insurance claims and state assistance applications.
This powerful work made a big impact.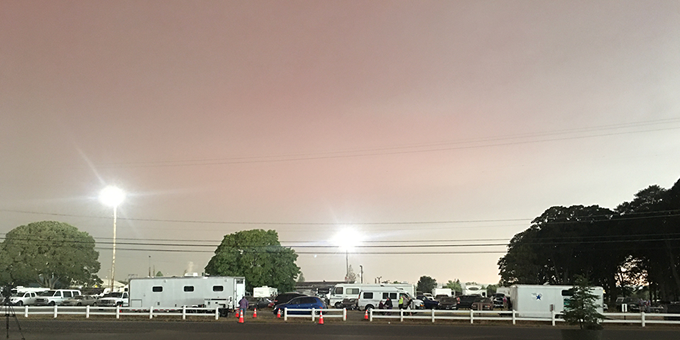 When Covid-19 vaccines were approved by the FDA,
the fairgrounds again adapted to meet the needs of the Willamette Valley and beyond.
The Oregon State Fair and Exposition Center continued to evolve in early 2021 to become a mass Covid-19 vaccination clinic. Partners like Salem Health, Oregon Health Authority, and the Oregon National Guard made efficient use of the 185 sprawling acres on the fairgrounds to safely administer Covid-19 vaccines to thousands of visitors each day. 
Vaccine Doses Administered (and counting!)
Above: Oregon Army National Guard Pfc. Mariah Baumgardner, a medic with Headquarters and Headquarters Company, 1249th Engineer Battalion speaks with Governor Kate Brown during a visit to the Marion County COVID-19 vaccine distribution clinic at the Oregon State Fairgrounds on Jan. 13, in Salem, Oregon. Gov. Kate Brown called in members of the Oregon National Guard to assist with vaccine distribution to Oregon citizens on Jan. 8, 2021. (Photo by Maj. Leslie Reed, 115th Mobile Public Affairs Detachment).
In the midst of hardship, the Oregon State Fair and Exposition Center demonstrated flexibility and saw incredible support from our community. The Oregon State Fair Foundation is proud to work to preserve the Fairgrounds to serve the public for many years to come.
SUPPORT THE
Oregon State Fair Foundation
You can help preserve this great Oregon event and gathering space for future generations by becoming a Friend of the Fair!
Your information will not be shared.