Building a Legacy
The Oregon State Fair Foundation works with businesses, industries, government agencies and individuals to promote, develop and expand the activities and programs of the Oregon State Fair and Exposition Center.
Oregon State Fair History
The Oregon State Fair has a history as rich as the soil of the Willamette Valley.
For 150 years, it has showcased not just our agricultural roots but our pioneering spirit, surviving roller-coaster attendance and merry-go-round leadership, even the devastation of two arson fires.
In 1967, just a month before opening day, one of those fires wiped out 40 percent of the exhibition space. But the event went on as scheduled, housed in tents donated by community groups and organizations.
The fair has been canceled just three times, once in 1905 because it would be competing for attendance with the Lewis and Clark Exposition in Portland and twice during World War II.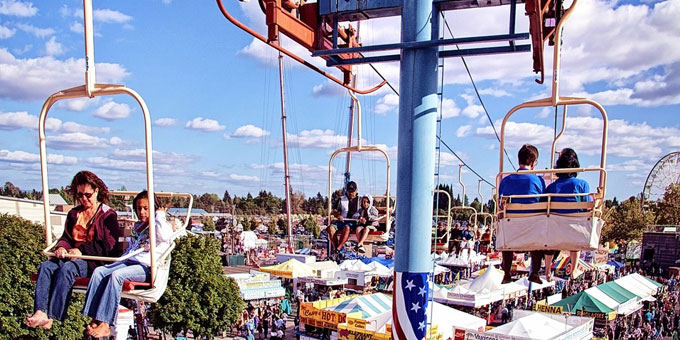 But it's so much more than a fair.
For 11 days each summer, the Oregon State Fairgrounds and Exposition Center transforms into a beacon of summer fun, with carnivals, cotton candy, concerts, and cows. But for 264 other days each year, these 185 acres serve the common good in crucial ways.
The Oregon State Fair Over the Last 30 Years
2013: The Legislature votes to convert the fair from a state agency into a public corporation.
2007: The 200-year-old grove of Oregon White Oaks across the street from the main fairgrounds is designated as an Oregon Heritage site.
2005: Management of the fair shifts to the Parks and Recreation Department.
2003: A $13 million, 5,076-seat Pavilion is built, replacing the grandstand.
2002: The Oregon State Fair Stadium and Poultry Building Ensemble are added to the National Register of Historic Places. The horse stadium was built in 1919 and is the oldest state building in continuous use. The poultry building was built in 1921 and is known for the "chicken head" relief sculptures that decorate the exterior. The grandstand is demolished.
2000: A hypnotist performs a public show in Oregon for the first time since 1905 due to a change in state law. Admission is $6 for adults.
1999: Legislature approves use of lottery-backed bonds for capital improvements on the fairgrounds.
1993: Legislature creates an independent public corporation to manage the fair. A chairlift is added as a ride for fairgoers, with an aerial route that bisects the fairgrounds north to south.
1990: Friendship Square develops into an eating and entertainment area. Fountain Plaza is built for professional entertainment.
1989: A second arson fire, set by three young girls, destroys the beef barn and causes $737,690 in damage. A $1 million, 21,000-square-foot Beef Barn opens in time for the fair.
SUPPORT THE
Oregon State Fair Foundation
You can help preserve this great Oregon event and gathering space for future generations by becoming a Friend of the Fair!
Your information will not be shared.